ES200 Cover
Innovative ES 200 automatic sliding door opener aluminium cover profile, applicable on Dorma ES 200 series (ES 200 & ES 200 Easy) automatic sliding door operators.
Metal bracket supporting & easy magnet clasp locking
Available cover length 4.15m, 5m, 6m or customized

Available cover height 150mm & 100mm
$180.00
Description
ES200 (ES200 Easy) 150mm/100mm Cover Profile
---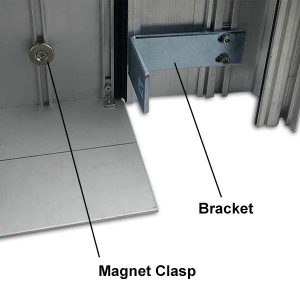 An optimized cover was redesigned for ES 200 series automatic sliding door openers (including ES 200 and ES 200 easy, applicable on Dorma ES 200 series). It is very easy to maintain and good protection to the opener.
The cover is extruded aluminum alloy in raw, and can be painted to any colors by spraying. Custom logo design is accepted.
This innovative cover system provides simple mounting, easy maintaining and perfect protection to the mechanism. Each cover set has two brackets at both left and right side for supporting, a small magnet fixed on the cover providing easy attaching and opening.
Slide in plastic strip giving reliable connection to the rail, which is a very durable polymer material.
Packing List:
Aluminium Cover x 1
Side panel x 2
Polymer hinge strip x 4 (For 4.15m rail, 0.5m/pc)
Bracket x 2
Magnet Clasp x 2
Available cover length 4.15m, 5m, 6m
Available cover height 150mm, 100mm