ES200 Pulley & Belt Tension
Integrated return pulley and belt tension device for ES 200 automatic sliding doors. Service part for repair & maintenance.
(Applicable on Dorma ES 200)
$18.00
Description
ES200 automatic sliding door return pulley & belt tension
An integrated return pulley and belt tension device for ES200 automatic sliding doors, as a locating wheel fixed at the side of the door opener. The integrated belt tensioning device is adjustable  and can tighten the driving belt of the door operator. It's a great alternative option for original replacement, it is a common service part in Dorma product repairing and maintenance.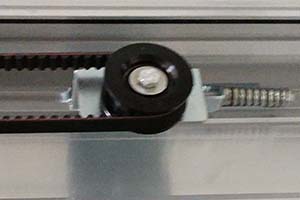 It is included in the standard package of ES200.  An electro-mechanical lck will be a substitution and take over its function if mechanical locking solution set up by customers.