Automatic Telescopic Sliding Door
(Automatic telescopic door opener kit set)
Dunkermotoren GR 63×55 motor, dual motor driving mode available
Double overlapped or triple overlapped sliding
Driving & controlling by either EC100 (SLM) or ES200 system
Highly customized for super heavy load commercial telescopic doors.
$1,500.00
Description
Telescopic Sliding Door Operator
Intelligent microprocessor control automatic telescopic door system, which uses the compatible Kaba/Gilgen SLM profile and hardware, the control and driving system can be either EC100(SLM) or ES200.
To maximize the opening width, this automatic door control system has 2 or 3 overlapped door panels which are fixed on 2 or 3 sliding guide ways (rails) and move to same direction. Compared to regular sliding door, it tremendously increases the  clear door opening.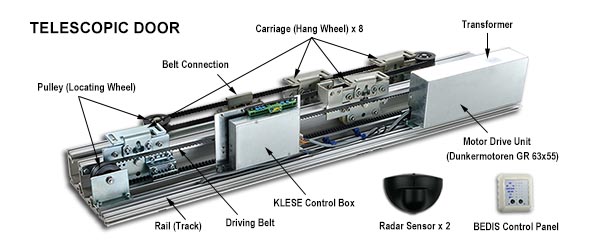 FEATURES
---
Intelligent microprocessor, automatic self-diagnostic, self-monitoring system
Double overlapped or triple overlapped sliding are available
Optional dual motor driving mode, ability of driving heavy loaded telescopic door
Gilgen SLM compatible profile and hardware
Super quiet and smooth, high efficiency brush DC Dunkermotoren motor
Expansion interface for backup power and emergency control
SPECIFICATION
---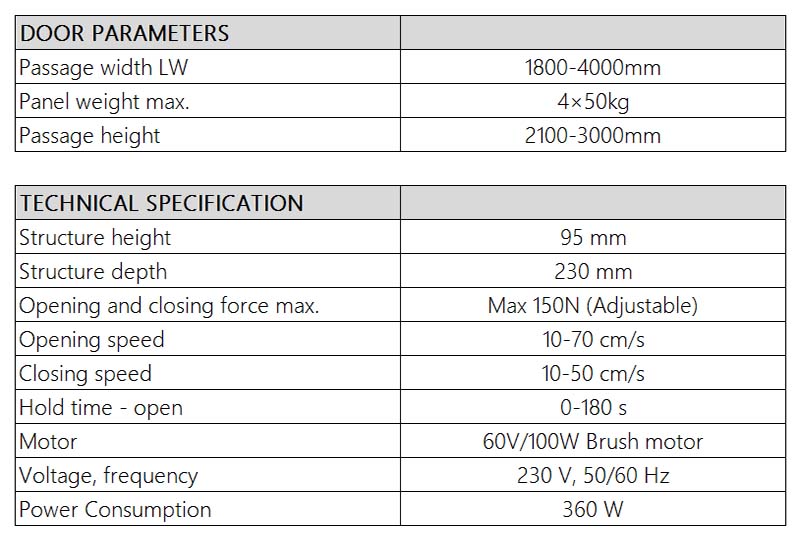 Up to 4 x 100kgs door panel under dual motor driving mode
Customized driving system available for super heavy telescopic doors
ITEMS CHECK LIST (Double overlapped)
(Included in standard package)
---
---
(Telescopic doors can be customized and check list may vary from different specification.)
COMMON OPTIONS
(Not included in the package)
---

COMMERCIAL SUPER HEAVY TELESCOPIC DOOR PROJECT
Additional information
| | |
| --- | --- |
| Ship by ocean | Full length rail packed in cartons or wooden cases. |
| Ship by air | Rail cut into 2pcs packed in cartons. |