M-218D Safety Beam Sensor (Light Barrier)
Active infrared safety beam photocell sensor (light barrier) for automatic sliding door safety presence detect.
Max. working distance 10m (34ft)
Power: AC/DC 12-30V
Available in single line or double beam.
$25.00
Description
Safety Beam Photocell Sensor (Light Barrier) For Automatic Sliding Doors.
---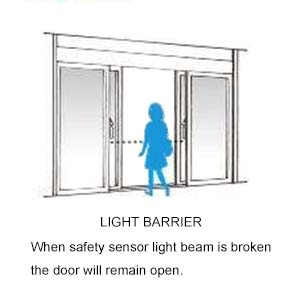 Mounting a safety beam sensor or light barrier is an effective safety solutions for automatic sliding door, electric glass door, automatic aluminium door or automatic frameless glass door systems.
Infrared signal emission from an eye on one side of door frame reaches the receiver eye on the other side, it will build a straight light path. As long as the ray path blocked by kids, pets, disables, or any persons standing in the passage, the safety beam sensor or light barrier will immediately detect the obstacle and stop the door from closing, prevent the people or objects in between from being clamped.
In default, automatic sliding door will automatically close after holding a specific time. Hence, a safety monitor device has to be mounted on the door for presence detection. It can be a safety beam photocell sensor, light barrier or an active infrared safety sensor, e.g. BEA ZENSAFE/C8 radar plus active infrared dual sensor.
Technical Parameters:
Working Power: AC/DC 12-30V
Static Current: 18mA (At 12V)
Action Current: 58mA (At 12V)
Max. Transmit Distance: 10m (34ft)
NO/NC Contact: Selected by NO/NC jumper
Beam Count: Single or double beam
Working Temperature: -42-45℃
Working Humidity: 10-90% relative humidity
Dimension(Controller): 105.5×53.4×28.5mm
Dimension(Magic Eye): 19x13mm (LxD)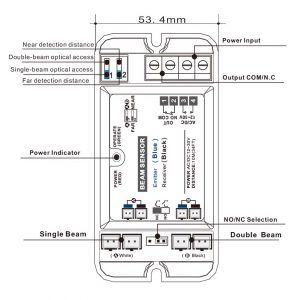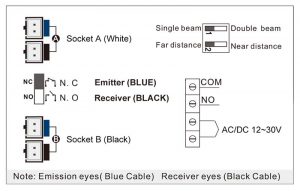 Remarks:
For single beam, only socket A should be used. For double beams, use both socket A and B.
Opening hole of Dia. 13mm for the eyes mounting.
Single beam installation position: recommend 60cm from ground.
Double beam installation position: recommend 30cm from ground for first beam and 90cm from ground for the second.
The eyes should be fixed properly, vertical to frame and horizontal to ground, making sure two eyes get in line.
Do not place any articles between the light path to mislead the sensor.
Avoiding directly sunshine on the eyes.
Do not install the eyes lower than 20cm from the ground.
---
Reference:
Wiring diagram on ES 200 automatic sliding door opener